Another Perspective from a YPS Customer
Authors need to find a dolphin in shark infested waters By David Zelder When I decided to retire early from the pressure-cooker world of senior management I decided to increase the effort of bringing my writing to a wider audience. Throughout my business career I had, of necessity, undertaken many writing tasks. This would range from board reports, magazine articles and internal newsletters to advertising blurb and other marketing material.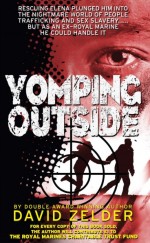 It breaks my heart so many talented writers are still swimming with sharks. You do not need to, just do your homework. I did, and love seeing the cheques and cash amounts of £8.99 coming in. That way I will recover my investment and can afford to pay part of my revenue to The Royal Marines Charitable Trust Fund.
So after a year searching I found what I was looking for :-