Another Perspective from a YPS Customer
More than ever, new authors need to be wary of swimming in the shark-infested waters that is the world of publishing today. York Publishing Services is the dolphin in that sea of sharks. I can assure you that reading this Guide will prove to be a half an hour of your time well spent.
By Mark Harland
So who am I and why have I been asked to write this Testimonial? Well, my name is Mark Harland, I'm based in Scarborough and I started writing as a hobby almost twenty years ago.
When I had finished writing my first book -'The Takeaway'- which was based on the Handover of Hong Kong to China, I enthusiastically sent the manuscript off to umpteen publishers. After many months I received only one response, a telephone call from a major international publisher.
Sadly they informed me that whilst they liked my book, they couldn't publish it as the genre was too close to that of James Clavell, for whose estate they still published!
It was great to be mentioned in the same breath as a novelist I had admired for years but it didn't solve my problem.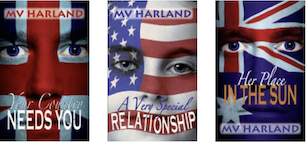 Undeterred, I started to write another book called 'Your Country Needs You' a political satirical novel set entirely in the UK. I had no sooner finished it when, by good fortune, a friend introduced me to York Publishing Services (YPS). Several meetings followed and the Directors explained the options to me. A few months later and the book itself was actually in my hand, not to mention several shops, the online YorkBookShop and Amazon Kindle. It proved to be an apprenticeship for what lay ahead. Two sequels followed - 'A Very Special Relationship' and 'Her Place in the Sun' – with American and Australian flavours respectively. All the cover designs were by the brilliant Clare Brayshaw, a long standing member of the YPS team.