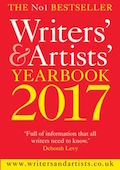 Recommended as one of the best self publishing companies in the Writers and Artists Yearbook 2023.

Reproduced from page Writers and Artists' Yearbook
Self-publishing
Another way for an author to see their book in print is to self-publish (see my website). However, since self-publishing has become more acceptable, some vanity publishers have tried to pass themselves off as self-publishers. For a book to be genuinely self-published, a name designated by the author as his or her publishing house must appear on the copyright page of the book as 'publisher' and the book's ISBN number must be registered by the ISBN Agency to that author as publisher.
All the copies of a self-published book are the property of the author. If an author does not wish to be involved with the sale and distribution of their book, this can be indicated in the 'Distributor (if different from Publisher)' section on the form sent to the ISBN Agency before publication.
On the title page of every book, there is a paragraph which, in essence, states that 'All rights are reserved. No part of this book can be stored on a retrieval system or transmitted in any form or by whatever means without the prior permission in writing from the publisher'. I repeat, without the prior permission of the publisher. Not 'the author', who is supposed to have 'self-published'.
Any company which publishes books under its own name or imprint cannot, by definition, claim to help authors to self-publish. The honest exception is where, although the publisher's address appears on the title page, the paragraph above states 'without prior permission of the copyright holder', and the author appears as copyright holder on the same page. True self-publishing gives authors much greater control over the production and dissemination of their books.
Aspiring authors should be careful not to be taken in by the promises of some vanity publishers, which have so often proved false. The legal phrase 'Caveat Emptor' ('Buyer Beware') here becomes 'Caveat Scriptor' – 'Author Beware'!
Recommended companies
York Publishing Services Ltd
64 Hallfield Road,
Layerthorpe,
York
YO31 7ZQ
Tel (01904) 431213
Website www.yps-publishing.co.uk
Contact Paula Charles
Matador Troubador Publishing Ltd
9 De Montfort Mews,
Leicester
LE1 7FW
Tel (0116) 255 9312
Website: www.troubador.co.uk
Contact Jeremy Thompson
Amolibros
Loundshay Manor Cottage,
Preston Bowyer,
Milverston,
Taunton
TA4 1QF
Tel (01823) 401527
Website: www.amolibros.co.uk
Contact Jane Tatam
Authors On Line
19 The Cinques,
Gamlingay,
Sandy,
Beds.
SG19 3NU
Tel (01767) 652005
Website: www.authorsonline.co.uk
Contact Richard Fitt